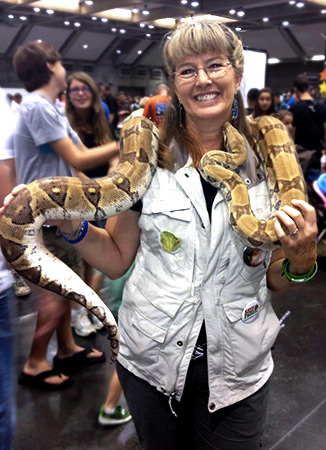 Nature's Critters was started by Julie Allen as a result of her work with animals and desire to educate people about our role in the environment. Lisa Seto worked with Julie Allen for three years before owning Nature's Critters. She continues to present educational and interactive programs to spark curiosity and foster respect of our natural world fulfilling the mission that Julie started over 30 years ago.
In addition to a Masters of Science in Biology and a B.S. in Zoology, Lisa has broad background experience with animals. She has worked as a field biologist and consulted in the study of endangered birds as well as in the following areas:
Veterinarian technician
Field ornithology consultant
Wild life rehabilitation
Oil spill volunteer
Humane society volunteer
Pet therapy volunteer
Lisa has a passion for the animals she works with and teaching others to experience the animals up close. She resides in Northern California with her husband, three children and numerous pets and animal friends.